Deprecation of Microsoft Outlook Client for Dynamics CRM
Posted on 7/2/2017 4:00:00 PM by Levin, Aric
Dynamics 365
Dynamics CRM
Office
---
Towards the end of June, Microsoft announced that the Microsoft Dynamics CRM/365 Outlook client will be deprecated in a future release. The Legacy Outlook client has been around since early versions of Dynamics CRM. The deprecation of the Outlook client does not mean that this is happening immediately, but is planned for the next Major Release (version 10). Version 9.0 is on the way, and the Outlook client will still be included, but with no additional features or enhancements.
The main reason for deprecating the Outlook client is that it does not have the capabilities that are expected from it with the latest releases of CRM. The Outlook Client is a COM addin, which are only supported in some versions of Microsoft Outlook (such as the desktop version). In the last few years, the Microsoft Office product group releases the Office add-ins feature, which does not rely on code that is installed on the user machine, so that results more reliable and easier to maintain.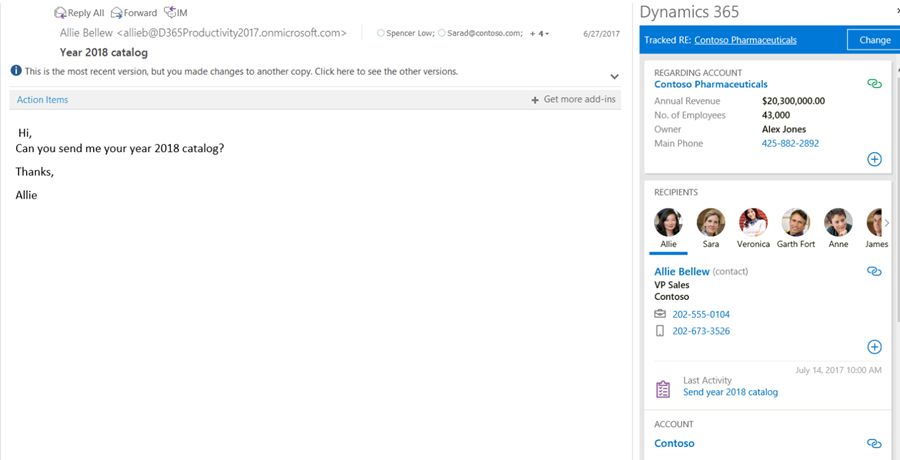 The new add-ins can run on the Outlook Web App, Mobile Outlook and Outlook for Mac. With the new enhancements to Microsoft Dynamics 365, the July update and future releases, additional enhancements and improvements will be added to the Outlook addin, which is now called the Dynamics 365 App for Outlook.
In the upcoming release of Dynamics CRM (July 2017 update, or v9) additional enhancement were introduced tto the addin, which include more information that is available to the user in addition to tracking and viewing of additional information related to email recipients or regarding records. Users will also be able to search for records or navigate to records all from within the app.
Navigate to original post to enter comments