Dynamics 365 Editable Grids
Posted on 1/14/2017 1:30:00 PM by Levin, Aric
Dynamics 365

---
Editable grids were introduced as a new custom control in Microsoft Dynamics 365, which provide inline editing capabilities for data within the main grid and form subgrids for web and mobile clients. The editable grids include support for grouping, sort and filtering data within the grid, so that we don't have to switch between records and views.
Editable grids support read-only fields, business rules and scripting, so that business logic can be applied to them.
To enable editable grid on the entity, we navigate to the Entity properties within the solution, and click on the Controls tab. There, we click on the Add Control… link (1), and select Editable Grid from the list of controls. Once added, change the Web option from Microsoft Dynamics Read-only Grid (default) to Editable Grid (2). Configure the properties of the grid (3), as shown below.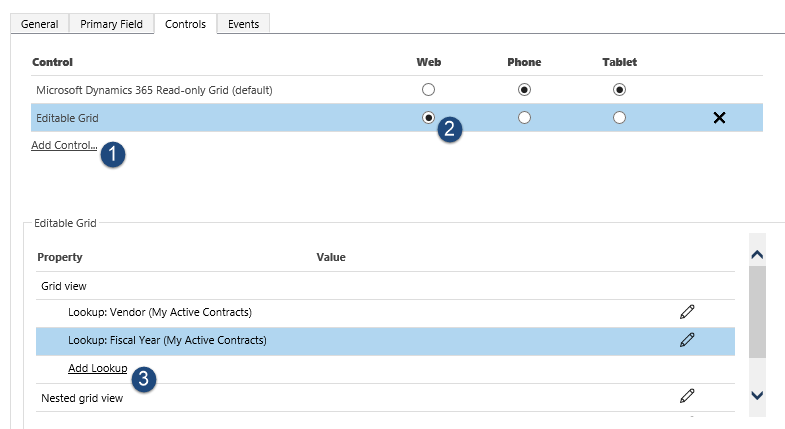 To enable the editable grid on a form (subgrid), navigate to the form design, click on the grid properties, and then click on the Controls Tab. Follow the same instructions as for the home page grid.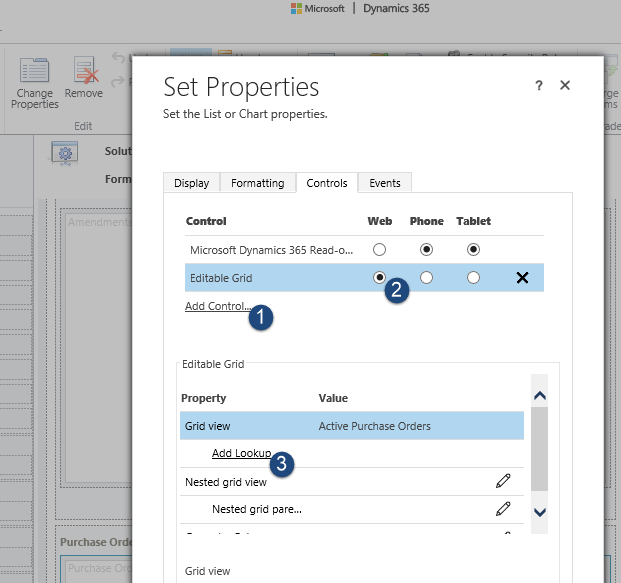 In the Editable Grid view, select the Grid View, and add any associated controls (lookup controls). You can also configure grouping and nested grids if necessary.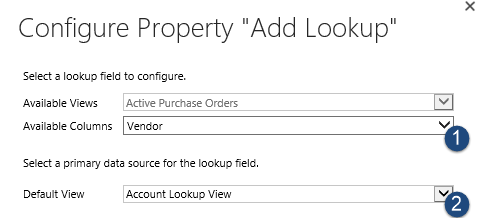 Editable grids are still in their first release, and I am sure that we will see more capabilities in the future, but after waiting for this for such a long time, I would say Microsoft has done a pretty good job for their first release.
If you are interested in looking at some of the contenders for editable grids, the following can assist:
EditAble CRM Grid by AbleBridge
Editable Grid by Sonoma Partners
PowerGrid by Power Objects
Navigate to original post to enter comments